Conference Registration Still Open — Scholarships Also Available!
The Network for Developing Conscious Communities (NDCC) provides resources for individuals looking to build change within their communities. Here, you will find ideas and inspiration within a network of conscious, actively involved people striving towards spiritual work and personal growth. We hope to become an integral part of your community development, and help make a difference in the lives of people everywhere. Join us today and become a partner of this new network.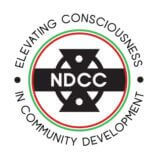 Guiding Principles
We welcome both for-profit and non-profit organizations, students, and individuals, technical and social entrepreneurs to join us in our movement of sharing our vision to build capacity and sustainability in Black communities.
Membership
With your help, we continue to support the actions of community development organizations, assets builders and individuals involved in the betterment of low and moderate income Black neighborhoods.
Network for Developing Conscious Communities